---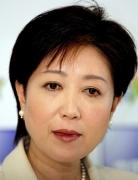 Yuriko Koike, member of the Veolia Institute 
Foresight Committee
, became the first woman elected Governor of Tokyo on Sunday July 31.
Elected for four years, Ms. Koike, former Environment Minister and Defense, was Member of the Japanese House of Representatives.
In addition to governing a municipality of 13.6 million residents, Ms. Koike will be responsible for preparing Tokyo for the Summer Olympic Games in 2020.